Details
Designed for high-traffic situations, the FAAC 620 rapid barrier gate operator features continuous duty operation, making it perfect for busy toll roads and highways. This listing is for the orange-coated, right-oriented 620 barrier gate operator for 10 ft long beams.
Includes:
Barrier body
Hydraulic drive transmission system
Balancing spring
Control unit
Installation accessories
Triangular release key
Note: Beams and beam kits sold separately. This barrier is made for 10 ft beams.
Features:
The ideal solution for heavy traffic applications
Hydraulic operator with opening and closing locks
Electronic slow down and adjustable hydraulic pressure
Programmable outputs to signal the status of the barrier
Automatic, semi-automatic, parking logics
External manual release with triangular key
Built-in detector, two independent channels
Continuous duty operation
Automatic fan cooling
Quiet operation
UL325 listed
Orange cabinet
Technical Specs:
Input Voltage: 230 Vac (+6% -10%)
Power: 220 W
Current: 1 A
Motor Rotation Speed: 1400 - 2800 r.p.m.
Pump Flow Rate: 1.5 LT/min
Opening Time: From 2 s to 3 s depending on beam length
Max Beam Length: 10 ft
Thermal Protection on Motor Winding: 248 °F (120 °C)
Electronic Deceleration: Adjustable with cams
Operating Ambient Temperature: -4°F ÷ 131°F (-20°C ÷ +55°C)
Use Frequency: Continuous
Barrier Body Treatment: 100 micron epoxy zinc-plating anti-corrosion treatment
Paint: Polyester RAL 2004
Protection Class: IP 44
Cooling: Forced air
Dimensions (L x D x H): 13.8 x 6.7 x 42.5 in (350x170x1080mm)
Thrust Capacitor: 8 μF 400 V
Do I need a right or left oriented barrier? You can determine if you need a right or left version by looking at the barrier from the door side. The door usually faces the inside of the property.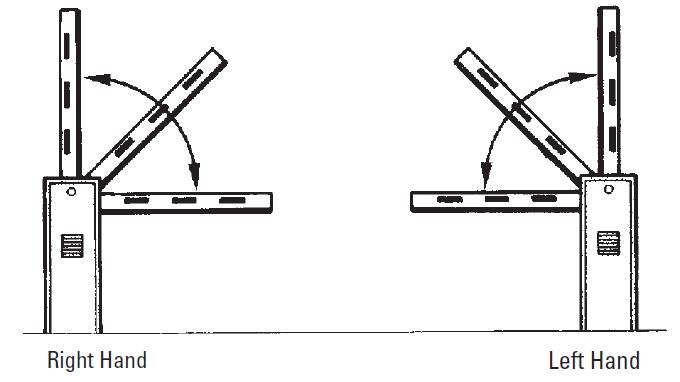 Additional Information
| | |
| --- | --- |
| SKU | 10465482 |
| Model | Operator Only |
| Operator Type | Barrier |
| Color | Orange Cabinet |
| Max Leaf Length | 10 ft |
| Voltage | 230 V |
| Orientation | Right |
| Manufacturer | FAAC International Inc. |
| Operator Series | 620 |